Main Contents
A new Saturn Theater original animated short film by Director Hayao Miyazaki will commence showing on Wednesday March 21st: BORO THE CATERPILLAR
Just before dawn, Boro the Caterpillar hatched from an egg among patches of scrub grass. Looking around for the first time, he noticed the brilliance of the morning sun and a deliciousness in the air. Boro lowered himself down to the ground from the borogiku (groundsel), and stepped out into the world of caterpillars and caterpillars' enemies.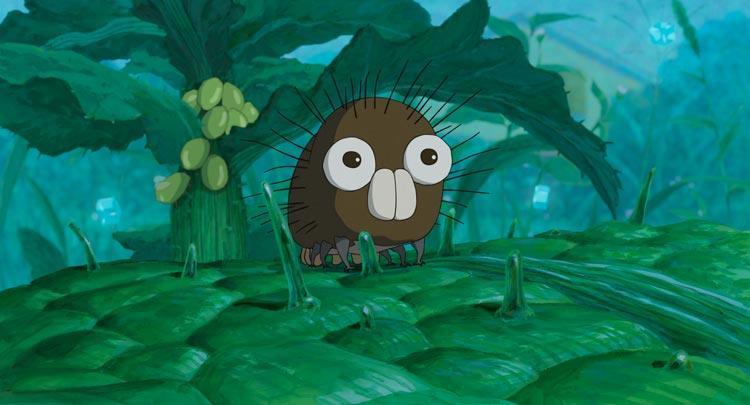 ©2018 Studio Ghibli
Boro the Caterpillar
Original screenplay, written and directed by Hayao Miyazaki
Length:14 minutes 20 seconds
Exhibition extended due to popular demand: Delicious! Animating Memorable Meals.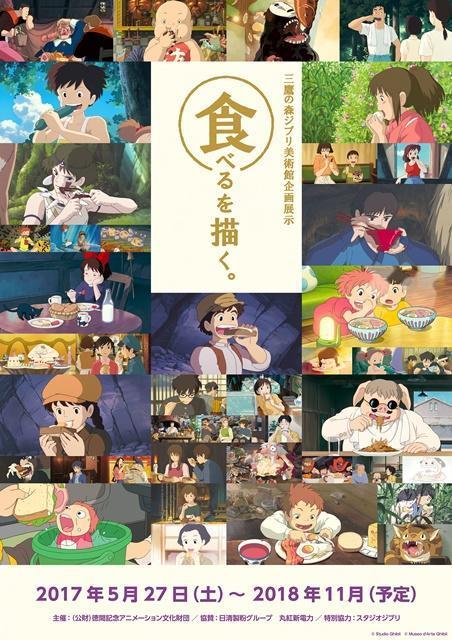 © Studio Ghibli © Museo d'Arte Ghibli

Studio Ghibli films are renowned for depicting daily life in great detail. What often lingers in the memory of our viewers are scenes of food and meals.
Pazu and Sheeta sharing a fried egg on toast in Castle in the Sky...
Chihiro shedding tears of relief eating a rice ball received from Haku in Spirited Away...
Howl frying up bacon and eggs for Sophie, Markl and everyone in Howl's Moving Castle...
Fans can recall deep impressions of food and scenes of eating in Studio Ghibli films.
The foods that appear are not particularly special, appearing in our lives quite commonly. But their appearance in the films always has special meaning. Their hearts connect when Pazu and Sheeta share the same food. The courage to face her challenges blooms in Chihiro as she eats the rice ball. Around the dining table a family forms while everyone enjoys bacon and eggs in Howl's moving castle. Scenes of casual meals are infused with tremendous storytelling importance.
Achieving dramatic effect and creating delicious-looking meals and characters enjoying them - their expressions and gestures - comes from the power of finely detailed drawing.
Food that is still warm, that looks soft and tender, with the wonderful flavor showing on the faces of those eating them - these scenes of meals are appealing and charming. No dialogue is needed to convey deliciousness and happiness.
This exhibition introduces how food can be drawn to appear even more delectable than the real thing, creating scenes of joy.
In the first room, "Scenes of Food" that remain in our memory are re-created, with art panels describing how to draw images that linger.
For example, how is the motion of Chihiro depicted when she is crying, her mouth full as she eats her rice ball? We show how that motion comes to life within the confines of only a few seconds on the screen.
The motions of eating - tearing off a bite with the teeth, using chopsticks - don't escape observation. At the dining table in the exhibition, we've got chopsticks ready, and everyone is invited to investigate carefully their own "motions of eating".
In the second room we present two life-size scenes of meals and food: Satsuki and Mei's kitchen in My Neighbor Totoro, and mess hall of the Tiger Moth in Castle in the Sky. Experience anew the worlds where Satsuki and Sheeta create culinary delights that put the grown-ups to shame!
Drawing food is drawing culture and history, requiring a variety of knowledge and curiosity to create rich film images. We've assembled some books we use to help us, and invite you to take a look.
We hope sincerely that you will come to understand the depth and richness of scenes of food that are full of life.

【Exhibition Period】 May 27, 2017 (Saturday) to Nov 2018 (closing date to be confirmed).
【Organizer】 The Tokuma Memorial Cultural Foundation for Animation
【Supporters】 Nisshin Seifun Group Inc., Marubeni Power Retail Corporation
Created and Curated by Goro Miyazaki
Last Chance: All Aboard! The Cat Bus to the Ghibli Forest
Our new exhibition opens on July 16. "All Aboard! The Cat Bus to the Ghibli Forest"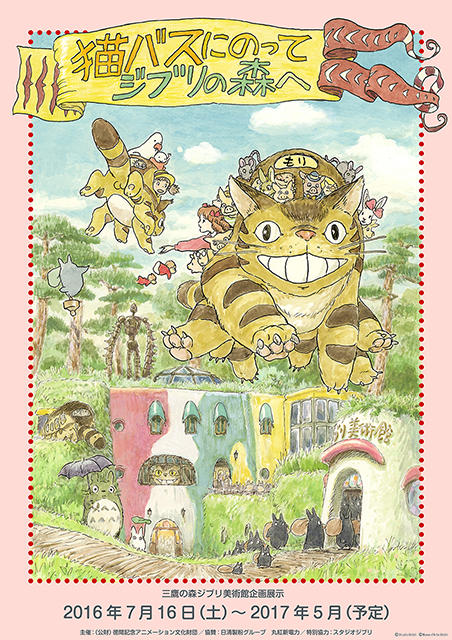 © Studio Ghibli © Museo d'Arte Ghibli

Thanks to your support, the Ghibli Museum, Mitaka, is celebrating its 15th year. Some visitors who were school children when we first opened are now parents, and we are pretty sure we see some of those first visitors bringing their kids to the Museum.
Every year we have presented a new annual exhibition - that makes 14 in total!

We started in 2001 with the "Spirited Away Exhibit", and our exhibitions have included 2005's "Heidi - Production Artists at Work Exhibit", 2009's "Ponyo on the Cliff by the Sea - Making a Film with Pencils" exhibition and 2011's "The View from the Cat Bus - A Special Exhibition", introducing to our visitors our thoughts on how animation is created.

Other exhibitions, including the "'Castle in the Sky' and Imaginary Science Fiction Machines Exhibit" in 2002, "The Three Bears Exhibit" in 2007 and "The Nutcracker and The Mouse King - A Fairy Tale Treasure" exhibit in 2014, presented seeds of imagination and new ways to look at animation.

For our newest exhibition we have taken another look at all of our past exhibitions to revisit key themes and reimagine our presentations. After going deep into our warehouse to extract hidden treasures, we have stuffed our exhibition space with a collage of items and images from all of our exhibitions... including some old favorites including the gigantic Three Bears and a huge Cat Bus for everyone to board.

After a long closure, the Museum has reapplied its makeup and is freshly renewed and newly painted. Concentrating fifteen years of exhibitions into one space, we will be delighted for you to feel the passion and dedication of our animators and creators.

Exhibition period: July 16, 2016 (Saturday) to May 14, 2017 (Sunday).
Organizer: The Tokuma Memorial Cultural Foundation for Animation
Special Collaboration: Studio Ghibli
Supporters: Nisshin Seifun Group Inc., Marubeni Power Retail Corporation
[Notice] Extended Museum Closure from Monday May 9, 2016.
The Ghibli Museum, Mitaka, will be closed during the following period.
  < Closed > Monday, May 9 through Friday, July 15, 2016.
The Museum will be closed for maintenance and upgrading, Thank you for your understanding.
Museum Calendar 2018-2019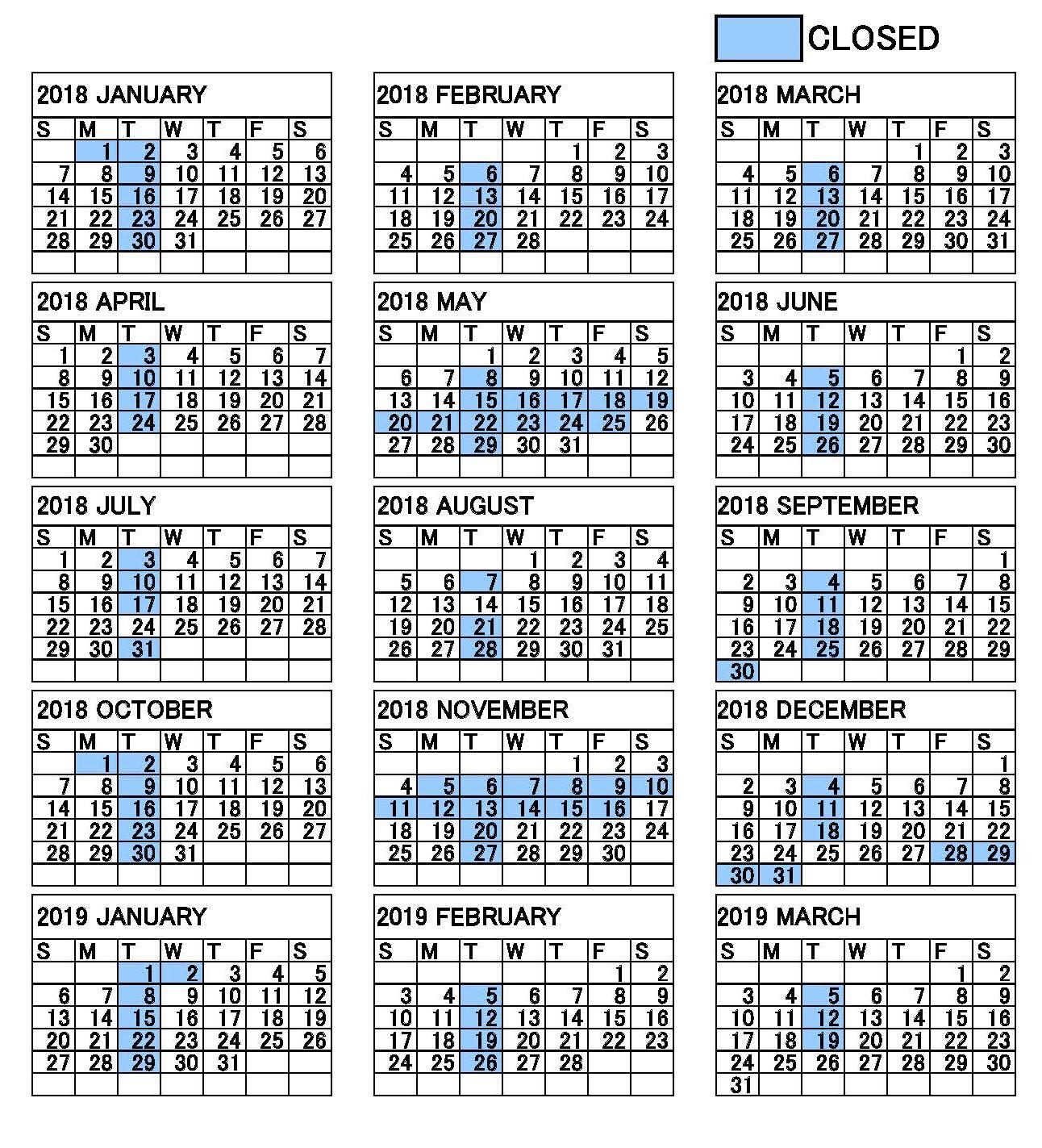 Closed
The Museum is closed every Tuesday, except on these Tuesdays:
 2018: May 1, July 24, August 14, December 25
 2019: Mar 26
Tickets for September 30 and October 1, 2018 are only available to residents of Mitaka city and other neighboring cities.

The Museum is also closed at Year-end and for New Year's Holidays and periodic maintenance:
   Periodic Maintenance 1: May 15, 2018 through May 25, 2018
   Periodic Maintenance 2: November 5, 2018 through November 16, 2018
   Year-end and New Year Holidays: December 28, 2018 through January 2, 2019
* Please check with designated local travel agencies.

Basic Information
Hours Of Operation
Museum:10:00~18:00
Closed
The Museum is closed every Tuesday, except on these Tuesdays:
 2017: January 3, March 21, May 2, July 25, August 15, December 26
Tickets for September 30 and October 1, 2017 are only available to residents of Mitaka city and other neighboring cities.

The Museum is also closed at Year-end and for New Year's Holidays, and for periodic maintenance:
   Periodic Maintenance 1: May 15, 2017 through May 26, 2017
   Periodic Maintenance 2: November 7, 2017 through November 17, 2017
   Year-end and New Year Holidays: December 27, 2017 through January 2, 2018
Please click here for the Museum Calendar (subject to change)
* Please check with designated local travel agencies.
Tickets
Entrance to the Ghibli Museum is strictly by advance purchase of a reserved ticket which specifies the appointed date of the reservation.
>>How to buy tickets outside Japan
Once you purchase a reserved tickets, no changes or refunds are allowed.
When you enter the Museum, you will exchange your reserved ticket with a "film" ticket (Only one film ticket per person).
Admission Fees
Over Age 19 ¥1,000
Age 13-18 ¥700
Age 7-12 ¥400
Age 4-6 ¥100
*Children under 4 are admitted free of charge.
*When purchasing the tickets outside Japan, charges will be calculated in your local currency at the current rate of exchange, and will also include a handling fee.
Special access for the Physically Handicapped
Restrooms
The Museum offers handicapped use facilities in restrooms on all floors (four either-sex facilities inside, and one facility each for males and females outside the Museum building). We also provide stands for changing baby's diapers.
The Saturn Theater
Hearing assistance earphones are available for loan for the hearing impaired. As of now, only Japanese is available.
For visitors using wheelchairs
All facilities in the three-story museum building excluding the roof garden are accessible by wheelchair. Wheelchairs are available for loan at the Museum. There is no elevator or other way to ascend from the second floor to the roof garden, except by the stairs.
For visitors who do not feel well
There are spaces available where you can rest.
Please ask our museum staff for details.
Treasure Hunting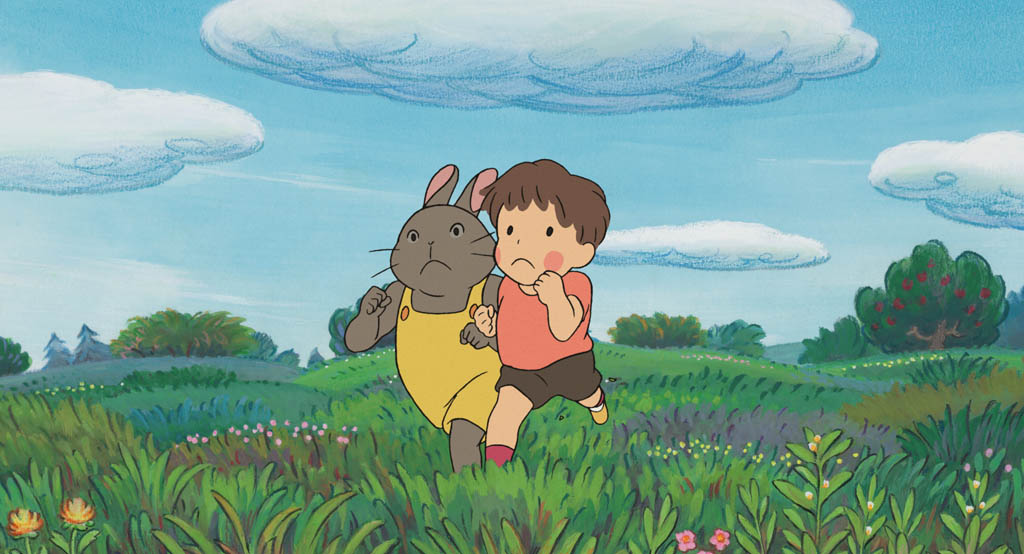 Treasure Hunting
(Japanese tilte: Takara-sagashi)
Approx. 9 minutes
Based on the picture book "Treasure-Hunting" (Takara-sagashi) by Rieko Nakagawa and illustrated by Yuriko Omura (Fukuinkan Shoten Publishing)
Planning by Hayao Miyazaki
© 2011 Rieko Nakagawa ・ Yuriko Omura ・ Studio Ghibli
Mr. Dough and the Egg Princess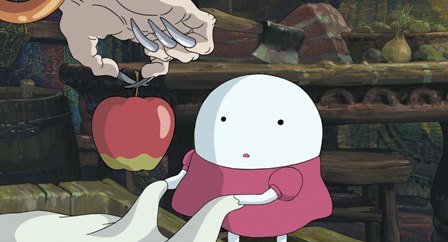 Mr. Dough and the Egg Princess
(Japanese title: Panndane to Tamagohime)
Approx. 12 minutes
Written and directed by Hayao Miyazaki
© 2010 Studio Ghibli
This is the Kind of Museum I Want to Make!
A museum that is interesting and which relaxes the soul
A museum where much can be discovered
A museum based on a clear and consistent philosophy
A museum where those seeking enjoyment can enjoy, those seeking to ponder can ponder, and those seeking to feel can feel
A museum that makes you feel more enriched when you leave than when you entered!

To make such a museum, the building must be...
Put together as if it were a film
Not arrogant, magnificent, flamboyant, or suffocating
Quality space where people can feel at home, especially when it's not crowded
A building that has a warm feel and touch
A building where the breeze and sunlight can freely flow through

The museum must be run in such a way that...
Small children are treated as if they were grown-ups
The handicapped are accommodated as much as possible
The staff can be confident and proud of their work
Visitors are not controlled with predetermined courses and fixed directions
It is suffused with ideas and new challenges so that the exhibits do not get dusty or old, and that investments are made to realize that goal

The displays will be...
Not only for the benefit of people who are already fans of Studio Ghibli
Not a procession of artwork from past Ghibli films as if it were "a museum of the past"
A place where visitors can enjoy by just looking, can understand the artists' spirits, and can gain new insights into animation
Original works and pictures will be made to be exhibited at the museum
A project room and an exhibit room will be made, showing movement and life (Original short films will be produced to released in the museum!)
Ghibli's past films will be probed for understanding at a deeper level

The cafe will be...
An important place for relaxation and enjoyment
A place that doesn't underestimate the difficulties of running a museum cafe
A good cafe with a style all its own where running a cafe is taken seriously and done right

The museum shop will be...
Well-prepared and well-presented for the sake of the visitors and running the museum
Not a bargain shop that attaches importance only to the amount of sales
A shop that continues to strive to be a better shop
Where original items made only for the museum are found

The museum's relation to the park is...
Not just about caring for the plants and surrounding greenery but also planning for how things can improve ten years into the future
Seeking a way of being and running the museum so that the surrounding park will become even lusher and better, which will in turn make the museum better as well!

This is what I expect the museum to be, and therefore I will find a way to do it

This is the kind of museum I don't want to make!
A pretentious museum
An arrogant museum
A museum that treats its contents as if they were more important than people
A museum that displays uninteresting works as if they were significant
Ghibli Museum, Mitaka
Executive Director
Hayao Miyazaki
Look! Totoro Is Waiting for Us at the Entrance!
When you walk along Kichijoji Avenue, in the shade of the tall green trees of Mitaka's Inokashira Park, you come upon a colorful building. Standing in front of a sign that says "Ghibli Museum, Mitaka", a very large Totoro welcomes you at the entrance. When you look through the portholes, soot-black Dust Bunnies are there as well. But this is not the real entrance. Totoro shows you where the real entrance is.
Open the door and welcome to wonderland! Every window and lamp is lovingly hand-crafted with beautiful and colorful stained glass using Ghibli characters, pretty plants and flowers, and forest animals. When the sun is shining, the vivid colors of the glass are reflected in splashes of colored light on the stone floors.