Closed
---
The Museum is closed every Tuesday except:
2019: March 26,April 30, August 13, October 22, December 24
2020: February 11
*Tickets for September 29 and October 1, 2019 are only available to residents of Mitaka City and other neighboring cities.
The Museum is also closed at Year-end and for New Year's Holidays and periodic maintenance:
Periodic Maintenance 1: May 21, 2019 through May 31, 2019
Periodic Maintenance 2: November 4, 2019 through November 15, 2019
Year-end and New Year Holidays: December 27, 2019 through January 2, 2020
Tickets
---
Entrance to the Ghibli Museum is strictly by advance purchase of a reserved ticket which specifies the entry date and time of the reservation.
Directions
---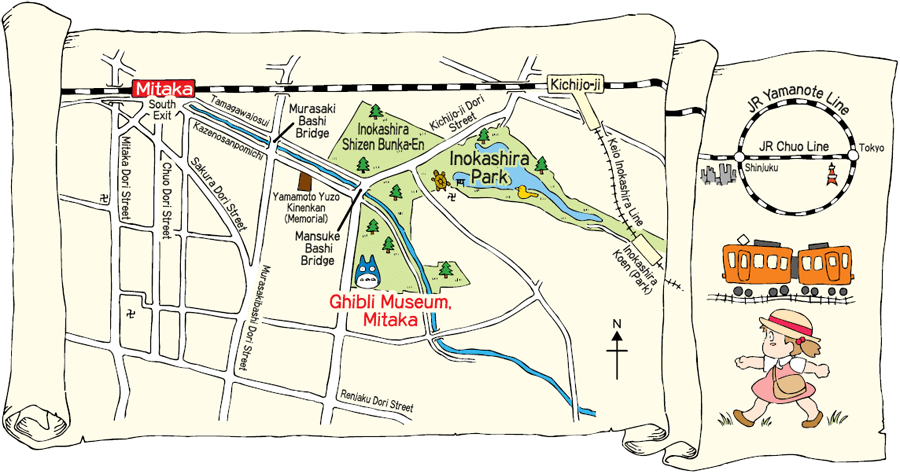 Ghibli Museum, Mitaka
1-1-83 Shimorenjaku, Mitaka-shi, Tokyo 181-0013, Japan
Train
To JR Mitaka Station, take the JR Chuo Line, approximately 20 minutes from JR Shinjuku Station. From the south exit of JR Mitaka Station, it's a 15-minute walk to the Museum.
Bus
A community bus runs from JR Mitaka Station to the museum. Bus tickets are on sale at the vending machine by bus stop No.9.
Fares
Adult
210 yen
(one-way)
320 yen
(round-trip)
Child
(Ages 7 to 12)
110 yen
(one-way)
160 yen
(round-trip)

Bus Schedule
From Mitaka Station

(South exit/Bus stop No.9)

Loop Bus via Ghibli Museum
For Myojo-Gakuen
7
20 40
35
8
00 20 40
05 35
9
00 10 20 30 40 50
05 35
10
00 10 20 30 40 50
05 35
11
00 10 20 30 40 50
05 35
12
00 10 20 30 40 50
05 35
13
00 10 20 30 40 50
05 35
14
00 10 20 30 40 50
05 35
15
00 10 20 30 40 50
05 35
16
00 10 20 30 40 50
05 35
17
00 10 20 30 40 50
05 35
18
00 10 20 30 40 50
06 35
19
00 10 20 35
05 40
20
00