All Films
---
The Whale Hunt
Japanese title: Kujira-tori
---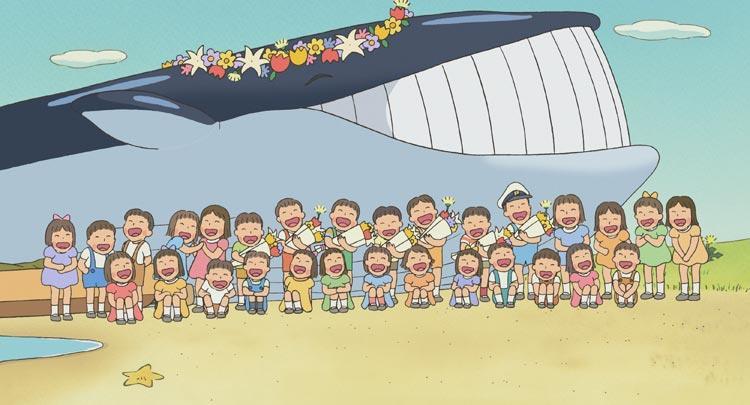 Length: 16 minutes 7 seconds
Based on a story from "No-No Nursery School" (Iya Iya En) by Rieko Nakagawa and illustrated by Yuriko Omura (Fukuinkan Shoten Publishing)
Screenplay and directed by Hayao Miyazaki
Music: Yuji Nomi
Shigeru is a little boy who goes to the Tulip Nursery School. One morning at school, Shigeru sees the boys a year older building a ship with blocks. He wants to join in too. The completed ship is named the Elephant and Lion. Soon, the children realize the surroundings have transformed into a sea, and even fishes are swimming. The boys load fishing rods and ropes onto the Elephant and Lion, and set out on a whale hunt.
This animated short film is based on a story piece included in a longtime classic and awards-winning children's book "Iya Iya En".
Koro's Big Day Out
Japanese title: Koro no Osanpo
---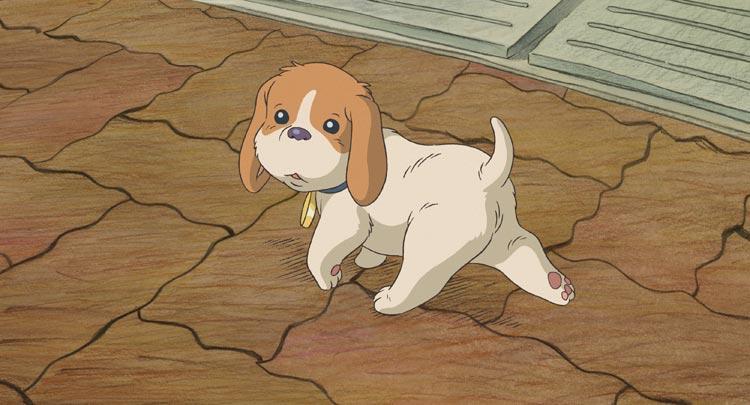 Length: 15 minutes 2 seconds
Original story, screenplay and directed by Hayao Miyazaki
Music: Yuji Nomi
The puppy Koro rushes out of the house chasing Sawako leaving for school, but Koro gets lost. In unfamiliar places, Koro is nearly run over by a car, threatened by an alley cat... For little Koro, everything he encounters outside is new and a big adventure. Meanwhile, Sawako comes home to learn that Koro is gone. She frantically tries to find him.
The suburban Tokyo backgrounds for this work were drawn using an innovative style incorporating color pencils as the medium.
Mei and the Baby Cat Bus
Japanese title: Mei to Koneko Basu
---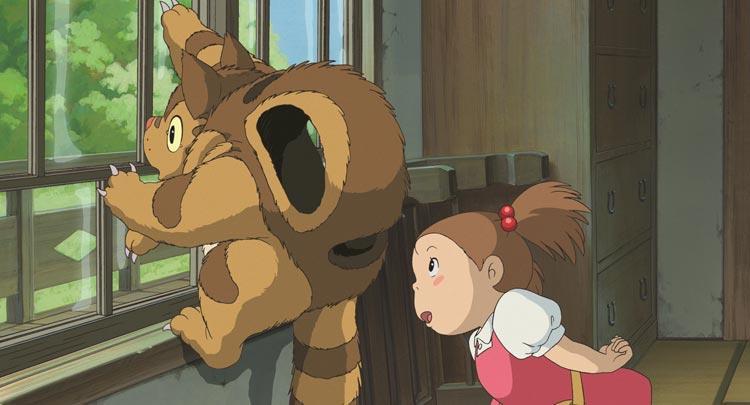 Length: 13 minutes 43 seconds
Original story, screenplay and directed by Hayao Miyazaki
Music: Joe Hisaishi
Mei is eating a caramel on one very windy day, when suddenly a whirlwind appears and starts chasing her. The whirlwind turns out to be a baby cat bus. Mei offers the kitten a caramel and the two become friends. That night, the baby cat bus visits Mei. Letting Mei ride inside him, he leaps out into the sky. They head for the midnight forest full of ghosts. Other cat buses large and small have also gathered together. In the forest, Mei encounters...
This work is a mini-sequel to the film "My Neighbor Totoro".
House Hunting
Japanese title: Yado-sagashi
---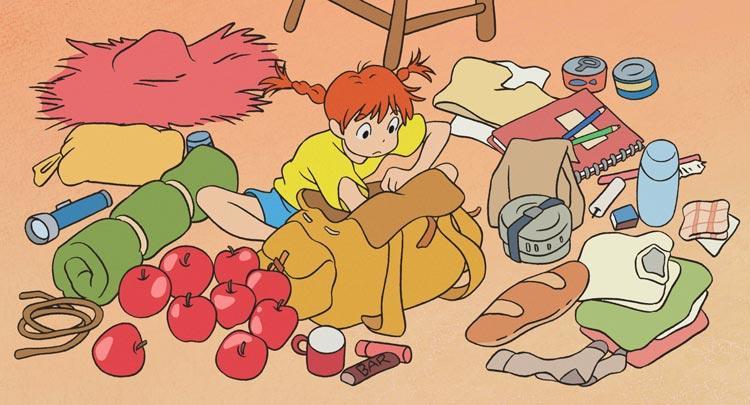 Length: 12 minutes 11 seconds
Original story, screenplay and directed by Hayao Miyazaki
Fuki packs all her needs in a big rucksack, and sets out on a journey to look for a new house. After going through the car-jammed city, she finds a stone Jizo statue on an old, narrow path. Fuki places an apple as an offering to ask for passage and walks on. On her way, she encounters the river guardian Nurari-Hyotan, the shrine guardian Ushi-Oni, and other strange creatures one after another. What will Fuki do now?
This work was created focusing on the rich onomatopoeia used in the Japanese language. Lettering is animated on the screen, and all sound effects were created using the human voice.
The Day I Bought a Star
Japanese title: Hoshi wo Katta Hi
---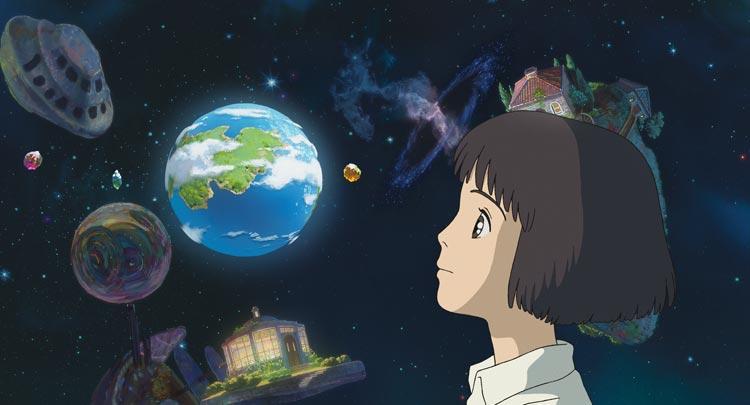 Length: 16 minutes 3 seconds
Based on the story "Iblard" by Naohisa Inoue
Screenplay and directed by Hayao Miyazaki
Music: Norihiro Tsuru, Yuriko Nakamura
In the city where Nona lives, the Time Bureau watches how its citizens use time. The Bureau supervises those who are wasting time or using time incorrectly. Nona is unable to bear this and runs away from home. He meets a mysterious woman named Ninya, and begins life on her farm. One day, Nona obtains a seed of a star in exchange for his vegetables, and decides to grow it.
This work is set in a mysterious world "Iblard," imagined and depicted by the artist Naohisa Inoue.
Mon Mon the Water Spider
Japanese title: MizugumoMonmon
---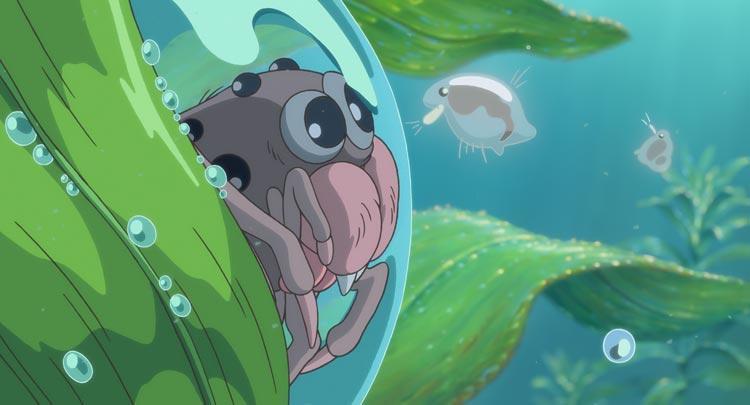 Length: 14 minutes 54 seconds
Original story, screenplay and directed by Hayao Miyazaki
Music: Rio Yanase
Mon Mon the water spider swims back and forth to the water surface every day to get bubbles of air. One day, Mon Mon meets a damsel water strider who is freely gliding on the water surface. Mon Mon falls in love. On lonely nights in the swamp, all he can think about is the water strider. Is there any chance that his love will be answered?
This story was created based on the panorama box "Mon Mon the Water Spider" displayed in the "Beginning of Movement" room.
A Sumo Wrestler's Tail
Japanese title: Chu Zumo
---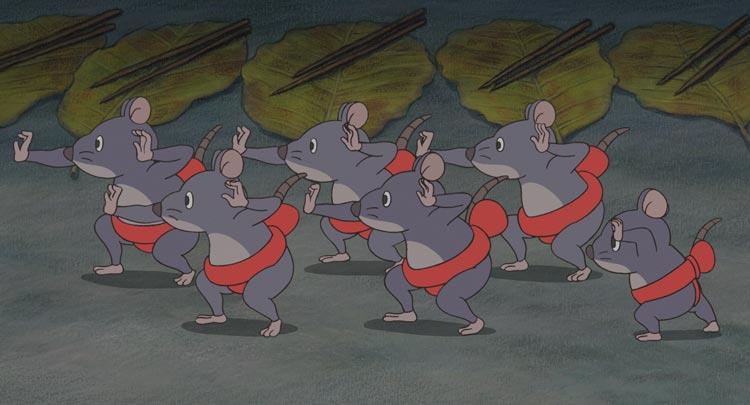 Length: 12 minutes 55 seconds
Based on a Japanese folk tale
Concept and screenplay by Hayao Miyazaki
Storyboard and directed by Akihiko Yamashita
Music: Manto Watanobe
Once upon a time, deep in the mountains, there lived an old couple who worked day after day in exhaustion, toiling up and down the mountain field. One night, the old man stepped outside and noticed a group of mice headed somewhere. He quietly follows them to find mice gathered for a sumo tournament. When the old man and his wife learn that their home mice are always losing, they start preparing a special feast of saury fish dumplings and grilled tofu with miso sauce. They even make new red sumo uniforms for their mice team. What will happen in the next sumo games?
This story is based on a Japanese folk tale "The Mice's Sumo Tournament".
Mr. Dough and the Egg Princess
Japanese title: Pandane to Tamago-hime
---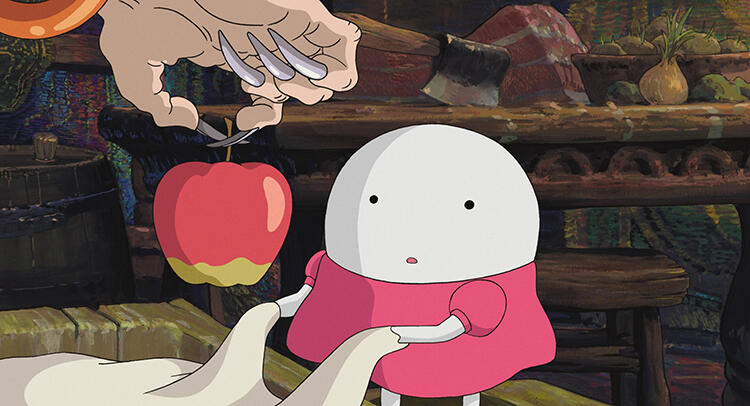 Length: 11 minutes 37 seconds
Written and directed by Hayao Miyazaki
Music by Joe Hisaishi
In a lonesome water mill deep in a forest of briers and brambles lives a witch named Baba Yaga. There the witch keeps her servant the Egg Princess confined and forces the tiny egg-girl to do all the hard daily chores around the mill. One night, a large batch of kneaded dough resting in a trough suddenly comes to life from the witch's spell. Fearful of the witch, the Egg Princess and her new friend decide to run away. What will lay ahead for the two of them...?
The story unfolds under the spell of Joe Hisaishi's arrangement of Antonio Vivaldi's La Folia.
Treasure Hunting
Japanese title: Takara-sagashi
---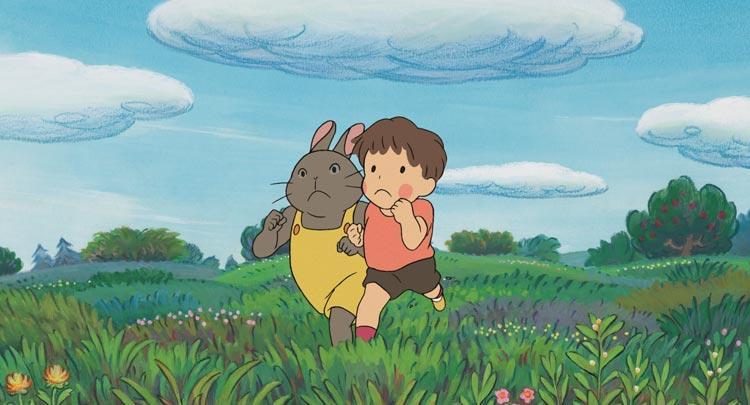 Length: 9 minutes
Based on the story "Treasure-Hunting" (Takara-sagashi) by Rieko Nakagawa and illustrated by Yuriko Omura (Fukuinkan Shoten Publishing)
Planning by Hayao Miyazaki
Music by MICHIRU
A boy named Yuji and his friend Gick, a rabbit, find a walking stick. To decide which of them will keep it, they try a foot race, a long jump and sumo wrestling, but each ends up in a tie. Out of ideas, the children go to Gick's Granny for help. Granny tells the children to go treasure hunting. Who will be the winner?
Ever since he first read the illustrated children's book on which the short film is based, Hayao Miyazaki has wanted to make this story into an animated film.
Boro the Caterpillar
Japanese title: Kemushi no Boro
---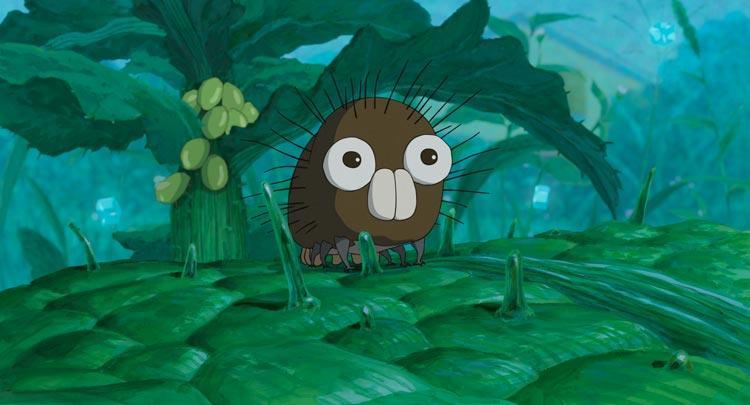 Length: 14 minutes 20 seconds
Original story, screenplay and directed by Hayao Miyazaki
Music: Joe Hisaishi
Just before dawn, Boro the Caterpillar hatched from an egg among patches of scrub grass. Looking around for the first time in fascination, he noticed the brilliance of the morning sun and a deliciousness in the air. As the sun lights up the grove, the borogiku (groundsel) leaves began to photosynthesize. "The air and water taste great!" Boro stepped out into the world of caterpillars' friends and foes.
Computer graphics and hand-drawn animation were combined to create a world seen through the eyes of an insect, and all sound effects were provided by the voice of Tamori.