Main Contents
Announcement of Sept 15-16 Ticket Exchange
Ticket holders who could not visit the Ghibli Museum on September 15 and 16, 2013
due to disruption caused by Typhoon no. 18 may use their tickets during the following exchange period:


Wednesday, September 19, 2013 to Sunday, March 16, 2014
except:
* Museum holidays / Tuesdays
* Museum Maintenance during November 5 to 15, 2013
* Year-end Holidays during December 27, 2013 to January 2, 2014.

Ticket holders may only enter the Ghibli Museum during the above exchange period at the same entry times
specified on their tickets dated September 15 or September 16, 2013.

Access to the Museum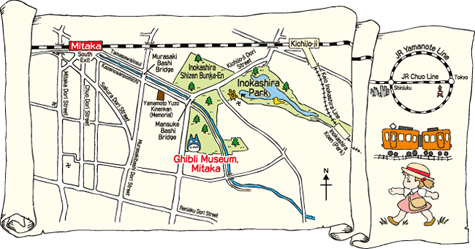 Printer friendly MAP(PDF 257KB)
Address: 1-1-83 Simorenjaku, Mitaka-shi,
Tokyo 181-0013
Within Mitaka Inokashira Park.
To Mitaka station, take the JR Chuo Line. Approx. 20 min. from Shinjuku station.
From the Mitaka South Exit, approx. 15 min. walk along the Tamagawa Josui "Waterworks" to the museum.
A Community Bus is in operation from Mitaka Station to the Museum.
(Fare: one-way 200 yen / round trip 300 yen - 1/2 price for children under 12 years old)
Here is the bus schedule to the Ghibli Museum from Mitaka station (South Exit / Buss stop #9)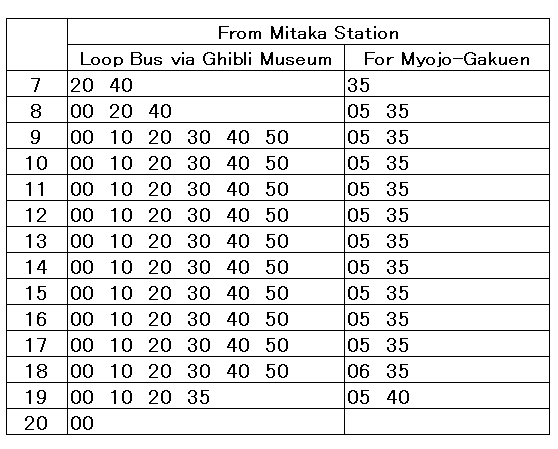 The museum does not have parking space for cars.