Painting the Colors of Our Films
---
Started on November 17, 2018.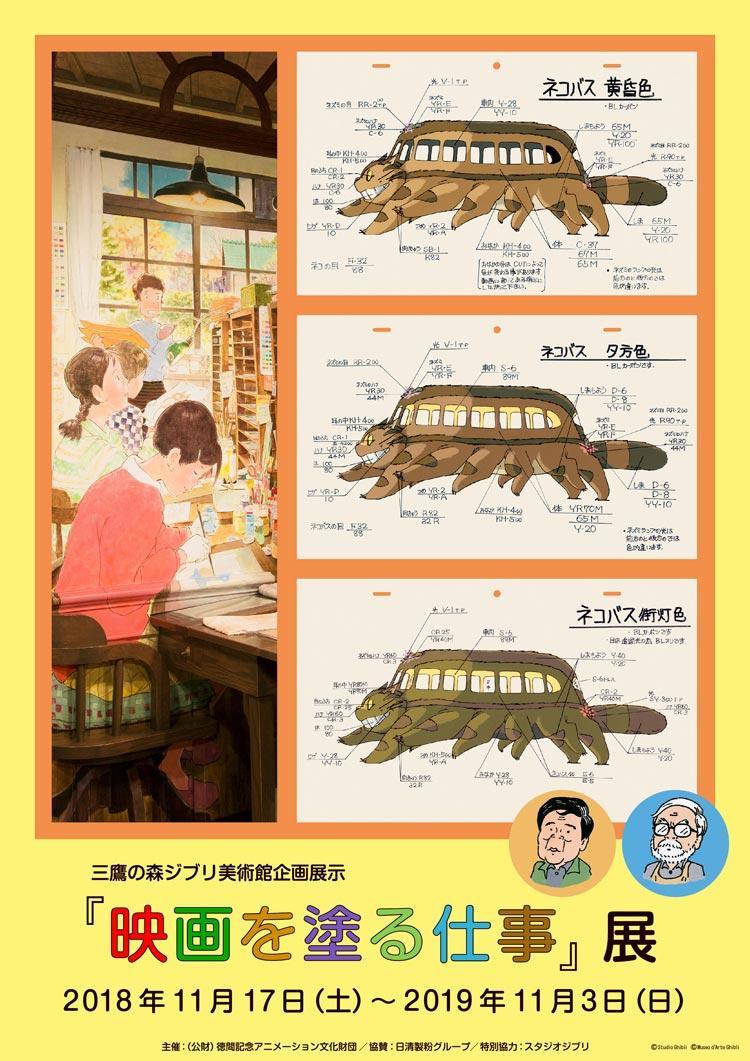 Our Special Exhibition "Painting the Colors of Our Films" started on November 17, 2018.
Color plays an integral role in bringing reality to the imaginary worlds of our films. With skillful techniques, when painted on animated drawings even a limited variety of colors can give characters a real sense of vitality and even convey their emotions.
Since the dawn of commercial animation, Studio Ghibli's founders, the late Isao Takahata and Hayao Miyazaki, steadfastly sustained their commitment to this philosophy: "Carefully depicting characters and their everyday life, and giving them a reality that is different from live action films, are the keys to creating a film that appeals to the hearts of the audience." In our film production, we select scenery to present reality, express time and weather through lighting, and choose colors that express details such as the texture and feel of material. Our artisans have been applying their tricks of the trade to enrich the worlds of our films.
This exhibition explains how this commitment of our founding directors is expressed in their works from the viewpoint of color. In particular, original cel drawings painted by the late color designer Michiyo Yasuda will be displayed to showcase her skills, which supported both directors throughout their careers. In contrast to the current mainstream digital coloring and computer animation, we would like to present the wisdom and ingenuity of Studio Ghibli staff who spared no effort to respond to the ever-increasing demands of the directors while working within the limitations of animation paint. We hope that the visitors will be able to see and feel "What We Expressed" using color.
Exhibition Period

November 17, 2018 to November 3, 2019

Organizer

The Tokuma Memorial Cultural Foundation for Animation

Supporters

Nisshin Seifun Group, Marubeni Electricity Inc.