Main Contents
You'll Find Your Treasure Here.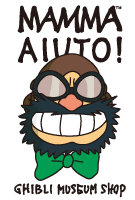 The museum shop "MAMMA AIUTO!" was named after the sky pirates in "Porco Rosso". It means "Mama, help me" in Italian. Here at this shop, you will find your favorite Studio Ghibli character products along with original Museum gift items.
At the reading room "TRI HAWKS", you will find picture books and children's books which are recommended reading selected by the Ghibli Museum and its executive director Hayao Miyazaki. This reading room was opened with the wish that it be a place to give children the opportunity to read.

The two places and their window displays are filled with things that are pretty, unexpected, and completely out of the ordinary. Spend some time to look around... you might discover something special for yourself.