Main Contents
Announcing our New Exhibition: The Haunted Tower - Perfect Popular Culture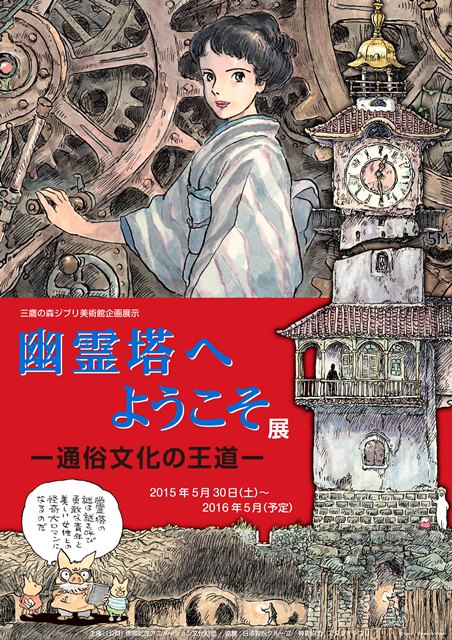 ©Studio Ghibli ©Museo d'Arte Ghibli

This exhibition is based on the novel Yureito (The Haunted Tower) by Rampo Edogawa. The roots of the novel can be traced back to the 1898 novel A Woman in Grey by A.M. Williamson, which was translated by Ruiko Kuroiwa in 1899 and published as a newspaper serial titled Yureito (The Haunted Tower). Thirty-eight years later, in 1937, Rampo Edogawa adapted the story into his characteristic "Rampo" style.
Director Hayao Miyazaki first read the story when he was in middle school. Etched firmly in his memory were the tapestry of romance wove by the story's characters and the great gears of the clock tower that looms large in the setting of the story. Director Miyazaki tells of how, when finally having the chance to create an animated feature, he showcased the tower and the romance in his first animated feature film, Lupin the Third: The Castle of Cagliostro, in 1979.
This exhibition is planned and designed by director Hayao Miyazaki. Rereading Yureito (The Haunted Tower) after sixty years, he views the novel as an ideal example of popular culture for everyone. He explains why in his hand-drawn manga illustrations seen in the Exhibition.
A giant Clock Tower designed by director Miyazaki surprises visitors in the Museum's Central Hall. After ascending the spiral staircase inside the Tower, children will enter a maze evoking a subterranean labyrinth full of hidden jewels.
After the maze, visitors may view a diorama introducing the structure of the setting of Lupin the Third: The Castle of Cagliostro.
Please enjoy the grand and mysterious world of the Clock Tower, the setting of Yureito (The Haunted Tower).

【Exhibition Period】 Saturday, May 30, 2015~ May 2016 (closing date to be confirmed)
【Organizer】 The Tokuma Memorial Cultural Foundation for Animation
【Special Collaboration】 Studio Ghibli