Main Contents
Announcement of a new exhibition: The Nutcracker and the Mouse King ~ A Fairy Tale Treasure ~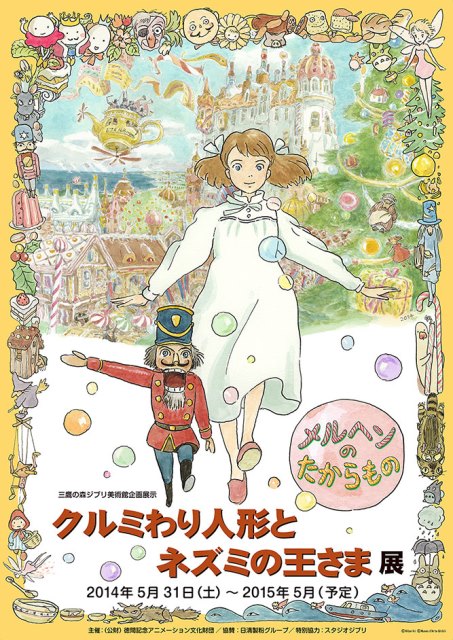 Do you know the true story of "The Nutcracker"?
Brought to fame by Tchaikovsky's music, the ballet The Nutcracker is based on the story The Nutcracker and the Mouse King, written 200 years ago by the German author Ernst Theodor Amadeus Hoffmann. Fantastic and mysterious, this story unfolds in the overlapping realms of "Reality" and "Fantasy" with ambiguous boundaries.
Hayao Miyazaki's encounter with The Nutcracker, a children's picture book based on the ballet adaptation published by Tokuma Shoten, sparked a fascination for this story that has captured the hearts of many young girls. Reading the picture book and the original novel over and over again, an epiphany came to Miyazaki, "This is a 'Fairy Tale Treasure'!" Thus he began to brainstorm on an exhibition that presents the mysterious charm of "The Nutcracker."
In this exhibition, Hayao Miyazaki introduces the story of The Nutcracker and presents his interpretation from various perspectives through hand-drawn illustrated panels. There are also a large model of a ballet theatre's stage and a room presenting The Nutcracker's lovely illustrations, drawn by its illustrator Alison Jay, inviting young children into the world of the picture book. As for the key person of the story, "The Nutcracker" himself, where is he from and what does he do? Visitors will have a chance to find out and maybe experience cracking a walnut or two.
Hoffman delivered brilliant treasures of his fairy tale world to children blessed with the freedom of imagination. We hope that the visitors will enjoy Hayao Miyazaki's presentation of this story's mysterious charm.

【Exhibition Period】 May 31, 2014 to May 2015 (tentative)
【Organizer】 Tokuma Memorial Cultural Foundation for Animation

Announcement of a new exhibition: "The Lens at Work in The Ghibli Forest"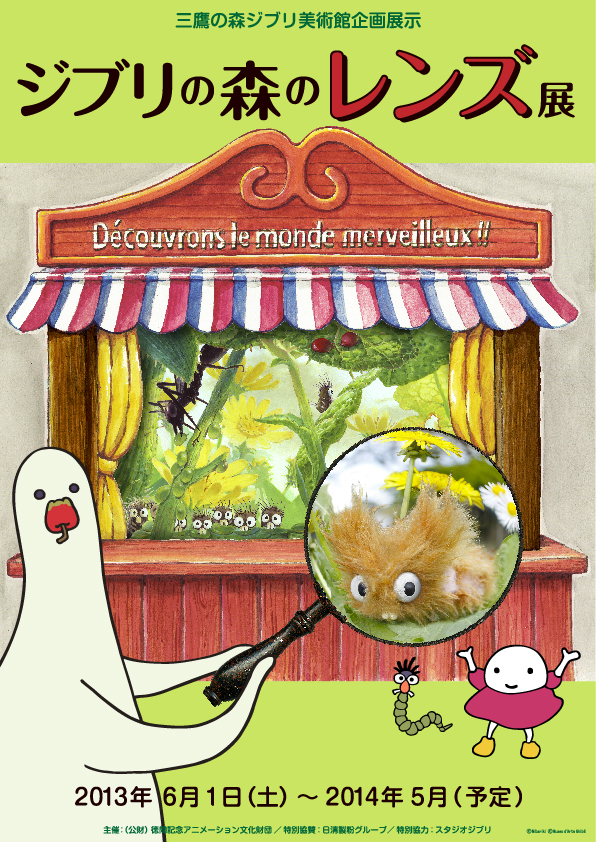 The Ghibli Museum presents a new special exhibition on June 1, 2013.

There are many things around us that involve the use of lenses, such as a pair of glasses or contact lenses. Nowadays, the lenses inside the camera of our mobile phones are perhaps the most common. So how is such a familiar object created and how does it work? One would imagine that not many people may be able to answer that question.
Thanks to the lenses inside film projectors, Studio Ghibli's movies can be shown on large screens for many people to enjoy. More than 2000 years ago, people discovered that wonderful images would come to life when light was shot through a tiny hole onto a wall. The desire to make these images brighter and much clearer gave birth to lenses and eventually the movies.
At the permanent exhibit area of the Ghibli Museum, visitors can appreciate the process of how drawings on paper become animated on a roll of film. But the screening of a film simply cannot happen without the lens.
This exhibition allows visitors to experience first-hand these close-by yet unnoticed lenses. While walking through and looking into small viewing booths, visitors can peek through lenses and see how objects in front of their eyes seem to change in shape, size and brightness. It is a wonderful sensation that we hope viewers will enjoy.
Additionally, in the footsteps of those forerunners dedicated to entertain crowds with "the world through lenses", visitors will be able to experience projecting "moving pictures" at an interactive exhibit. Furthermore, visitors will have a chance to screen their own Museum film tickets.
Through this exhibition, we hope that the visitors can re-discover these immediate yet often-forgotten lenses.
【Exhibition Period】 June 1, 2013 to 18 May, 2014 (tentative)
【Organizer】 Tokuma Memorial Cultural Foundation for Animation