Main Contents
Announcement of Sept 15-16 Ticket Exchange
Ticket holders who could not visit the Ghibli Museum on September 15 and 16, 2013
due to disruption caused by Typhoon no. 18 may use their tickets during the following exchange period:


Wednesday, September 19, 2013 to Sunday, March 16, 2014
except:
* Museum holidays / Tuesdays
* Museum Maintenance during November 5 to 15, 2013
* Year-end Holidays during December 27, 2013 to January 2, 2014.

Ticket holders may only enter the Ghibli Museum during the above exchange period at the same entry times
specified on their tickets dated September 15 or September 16, 2013.

Announcement of a new exhibition: "The Lens at Work in The Ghibli Forest"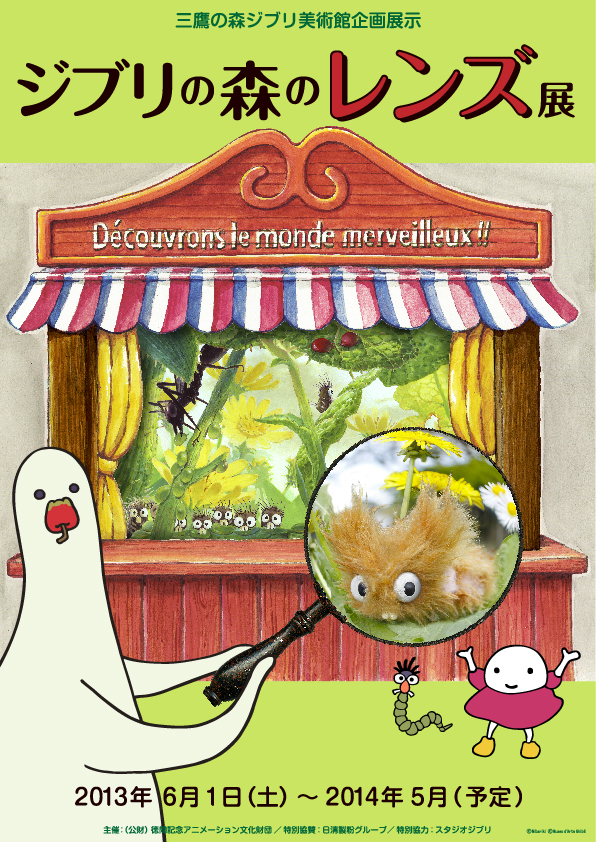 The Ghibli Museum presents a new special exhibition on June 1, 2013.

There are many things around us that involve the use of lenses, such as a pair of glasses or contact lenses. Nowadays, the lenses inside the camera of our mobile phones are perhaps the most common. So how is such a familiar object created and how does it work? One would imagine that not many people may be able to answer that question.
Thanks to the lenses inside film projectors, Studio Ghibli's movies can be shown on large screens for many people to enjoy. More than 2000 years ago, people discovered that wonderful images would come to life when light was shot through a tiny hole onto a wall. The desire to make these images brighter and much clearer gave birth to lenses and eventually the movies.
At the permanent exhibit area of the Ghibli Museum, visitors can appreciate the process of how drawings on paper become animated on a roll of film. But the screening of a film simply cannot happen without the lens.
This exhibition allows visitors to experience first-hand these close-by yet unnoticed lenses. While walking through and looking into small viewing booths, visitors can peek through lenses and see how objects in front of their eyes seem to change in shape, size and brightness. It is a wonderful sensation that we hope viewers will enjoy.
Additionally, in the footsteps of those forerunners dedicated to entertain crowds with "the world through lenses", visitors will be able to experience projecting "moving pictures" at an interactive exhibit. Furthermore, visitors will have a chance to screen their own Museum film tickets.
Through this exhibition, we hope that the visitors can re-discover these immediate yet often-forgotten lenses.

【Organizer】 The Tokuma Memorial Cultural Foundation for Animation
【Special Collaboration】 Studio Ghibli Inc.   Nisshin Seifun Group
【Exhibition Period】 June 1, 2013 to May 2014 (tentative)