Upcoming Exhibition
---
"Sketch, Flash, Spark!" ~ From the Ghibli Forest Sketchbook
Starting on November 16, 2019.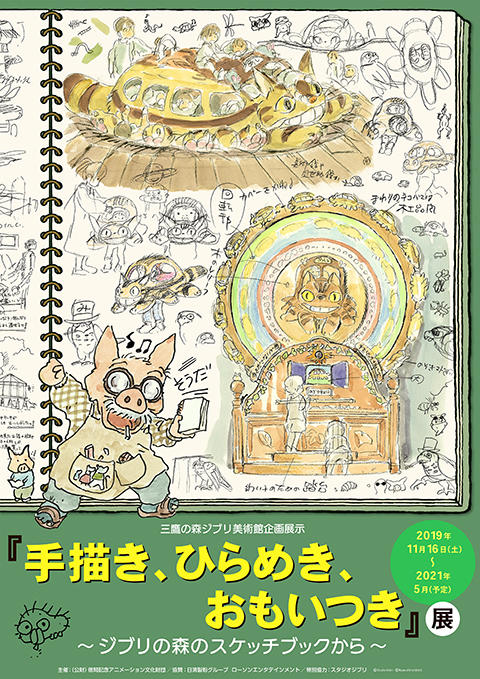 Over 20 years have passed since the planning of the Ghibli Museum, Mitaka which opened to the public in October 2001. Throughout this time, "To offer our visitors an intriguing experience" remains the basic idea of how the museum is built and how the exhibits are made with constant effort. This exhibition will introduce the work behind the museum's creation with pictures and texts by director Hayao Miyazaki himself.
The first room of this special exhibition showcases past special exhibitions that Miyazaki was involved in, starting with the first special exhibition "Spirited Away." How was the film's proposal which the director has poured his heart into in-between production created? What were the thoughts behind the modifications made for getting closer to what he aimed to convey? Such development process and embedded thoughts will be presented.
Some work took relentless trial and error, while some hardship was overcome with a spur of "inspiration" or "idea." Visitors may comprehend that the creation process is a strenuous yet stimulating effort at the same time.
The second room tells the story of how the animation production company Studio Ghibli decided to create a museum through illustrations of imageboards depicting the various ideas of how it should look. In addition, the blueprint with Miyazaki's last-minute changes penned into the design will be on display for the first time.
Moreover, visitors may compare the Museum's conceptual imageboards with a three dimensional model that shows concisely each level of the completed Ghibli Museum.
At the gallery on the second floor, illustrations drawn for the exhibition featuring the museum short films will be on display. Here, visitors can also get a sense of being on board the children's favorite Baby Cat Bus.
The multi-talented Miyazaki not only dedicates himself to feature animation productions, he is also a graphic novel artist, a designer of buildings and space, and a creator of exhibitions. Through this exhibition, visitors can discover that his fundamental mindset and approach to various projects are identical to those applied to film production. We sincerely hope that our visitors will enjoy this exhibition.
Exhibition Period

November 16, 2019 to May 2021 (tentatively)

Organizer

The Tokuma Memorial Cultural Foundation for Animation

Supporters

Nisshin Seifun Group, Lawson Entertainment
Special Collaboration: Studio Ghibli
Current Exhibition
---
Painting the Colors of Our Films
Started on November 17, 2018.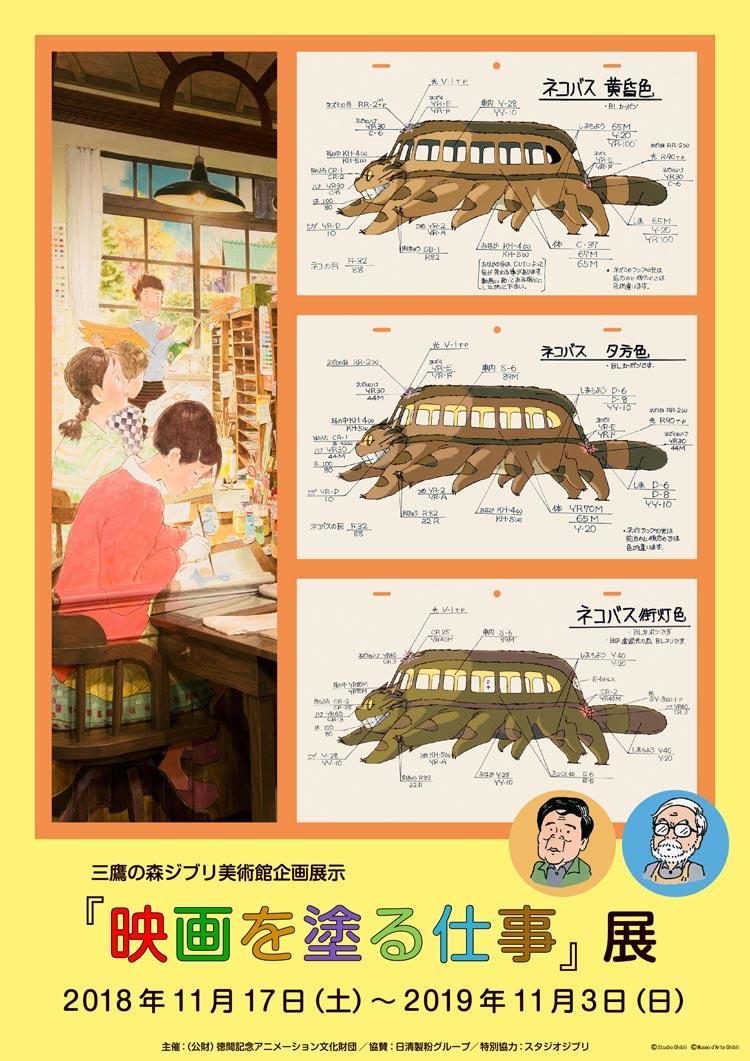 Our Special Exhibition "Painting the Colors of Our Films" started on November 17, 2018.
Color plays an integral role in bringing reality to the imaginary worlds of our films. With skillful techniques, when painted on animated drawings even a limited variety of colors can give characters a real sense of vitality and even convey their emotions.
Since the dawn of commercial animation, Studio Ghibli's founders, the late Isao Takahata and Hayao Miyazaki, steadfastly sustained their commitment to this philosophy: "Carefully depicting characters and their everyday life, and giving them a reality that is different from live action films, are the keys to creating a film that appeals to the hearts of the audience." In our film production, we select scenery to present reality, express time and weather through lighting, and choose colors that express details such as the texture and feel of material. Our artisans have been applying their tricks of the trade to enrich the worlds of our films.
This exhibition explains how this commitment of our founding directors is expressed in their works from the viewpoint of color. In particular, original cel drawings painted by the late color designer Michiyo Yasuda will be displayed to showcase her skills, which supported both directors throughout their careers. In contrast to the current mainstream digital coloring and computer animation, we would like to present the wisdom and ingenuity of Studio Ghibli staff who spared no effort to respond to the ever-increasing demands of the directors while working within the limitations of animation paint. We hope that the visitors will be able to see and feel "What We Expressed" using color.
Exhibition Period

November 17, 2018 to November 3, 2019

Organizer

The Tokuma Memorial Cultural Foundation for Animation

Supporters

Nisshin Seifun Group, Marubeni Electricity Inc.
Past Exhibition
---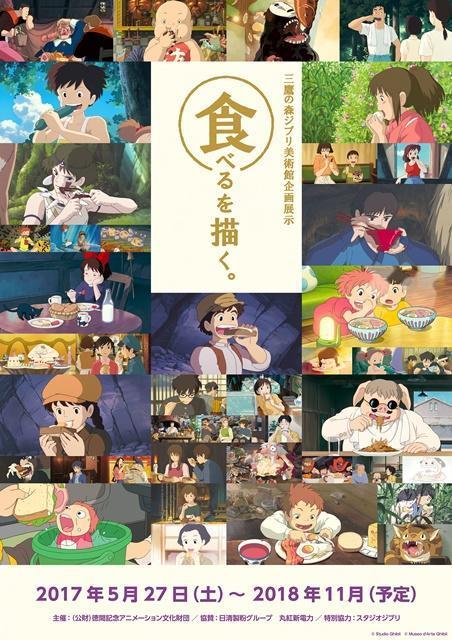 Started on May 27, 2017.
Studio Ghibli films are renowned for depicting daily life in great detail. What often lingers in the memory of our viewers are scenes of food and meals. Pazu and Sheeta sharing a f...