Main Contents
Exhibition Ending Soon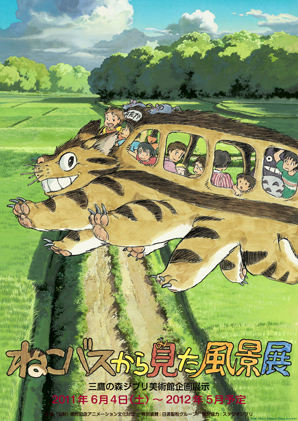 ©1988 Nibariki -G ©Nibariki ©Museo d'Arte Ghibli

"The View from the Cat Bus" ― A Special Exhibition
The Ghibli Museum, Mitaka will present a new Special Exhibition "The View from the Cat Bus" beginning in June 2011.
Beautifully hand painted backgrounds which serve as the platform upon which to stage the tale are a hallmark of Studio Ghibli filmmaking. The style and technique of the art may vary from film to film, but the artists' ability to capture colors as they appear in the dazzling sunlight and to transfer them to the movie screen is present in all Ghibli films. By having the chance to look closely at the background pictures, we have a chance to feel what the artists intended to express and to see how they realized their visions.
The exhibition presents the background art separated from the other elements that go into the film and in combination with three-dimensional models, lit in such a way as to enhance the feeling of being inside the film's setting. The intent is to allow the visitor to appreciate the artwork anew and to come to appreciate how the light and space is manipulated in order to create a heightened emotional effect.

The first exhibition room will feature background art from MY NEIGHBOR TOTORO. The idealized landscapes from this film have become iconic representations of the Japanese countryside and instilled in generations of Japanese moviegoers a longing for a simpler, less complicated past. They call up fond memories of exciting days spent under the summer sun and the peaceful melancholy of a rural twilight. And not only the children but adults as well will have the privilege to take a ride in the Cat Bus and rediscover their childhood by regarding the view from within the magical creature.

In the second exhibition room, visitors will alight from the Cat Bus and find themselves in a scene from another Ghibli film. In the antique shop Earth Emporium that was depicted in the film WHISPER OF THE HEART. In the street-side restaurants for spirits or in Yubaba's bathhouse residence from the film SPIRITED AWAY. In the shop where Sophie works making hats from the film HOWL'S MOVING CASTLE. Or deep in the forest of the Great Deer God from the film PRINCESS MONONOKE.
We hope that visitors to the exhibition will come to appreciate the beauty and the evocative power of the art that goes into the making of the backgrounds for Ghibli's films.

【Organizer】 Tokuma Memorial Cultural Foundation for Animation
【Special Collaboration】 Studio Ghibli
【Exhibition Period】 June 4, 2011 to May 21, 2012